Unleash A Wave of Fun with Water Slide Rentals
Welcome to Bounce House Rental Company, your one-stop destination for water slide fun! We're not just a company, we're a group of fun-seekers and joy-bringers, dedicated to making your parties and events unforgettable. Our water slide rentals are the epitome of our commitment to fun, offering a splash of excitement that's sure to make a big wave at your next gathering. We're not just about the slide, we're about the laughter, the memories, and the pure joy of letting loose and having endless amounts of fun. So, dive in and let the good times roll!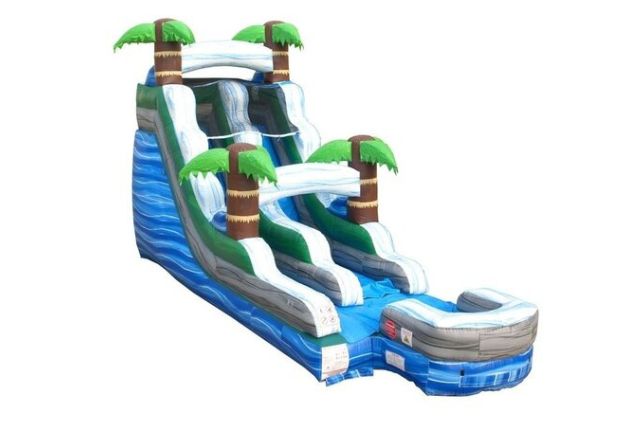 Featured Water Slide Rental
15' Tropical Marble Water Slide
Get ready for a thrilling adventure with the 15' High Tropical Marble Water Slide Rental! This captivating inflatable water slide rental will transport you to a tropical paradise right in your own backyard. Standing at an impressive 15 feet tall, it's designed to deliver an adrenaline-pumping experience. With its high safety standards and commercial-grade construction, this water slide rental guarantees an exciting ride every time. It's perfect for riders of all ages, creating memories that will last a lifetime.

Imagine the pure excitement as your kids climb to the top of this 15' High Tropical Marble Water Slide. They eagerly take a deep breath and slide down, feeling a burst of energy as they zoom toward the splash pool at the bottom. The tropical marble design adds an element of magic to their adventure, making them feel like they're sliding down into a tropical land. With each ride, laughter fills the air and smiles grow wider.
Book Online Now
Another Crowd Favorite
Slip and Slide Rental Fun!
Unleash the tropical fun with our 33' Long Tiki Tropic Dual Slip and Slide Rental! This vibrant, Tiki-themed slip-and-slide is designed to bring the exhilaration of a water park right to your backyard. With its dual lanes, this slip-and-slide allows for friendly competition and double the fun. The arches across the top have a water sprinkler to keep children racing fast to the end. This slip-and-slide is perfect for children 34" and taller, with a maximum weight limit of 400lbs.

Picture the laughter and joy as your kids take a running start and dive onto the Tiki Tropic Dual Slip and Slide. Imagine the thrill they feel racing down the dual lanes, the cool water splashing around them, and the exhilarating rush as they slide down into the splash zone. This isn't just a slip and slide, it's an adventure that brings out the spirit of friendly competition and creates unforgettable summer memories. Whether it's a birthday party, a neighborhood gathering, or just a sunny afternoon, your kids will be lining up for their turn to take on the Tiki Tropic Dual Slip and Slide Rental.
Book Online Now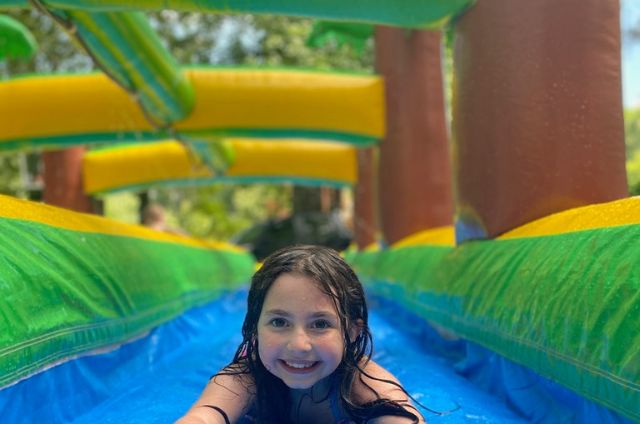 A Splash of Fun with Our Water Slide Rentals
Get ready to make a splash with Bounce House Rental Company's exhilarating water slide rentals! Imagine the laughter and joy filling the air as kids and adults alike zip down our vibrant, towering water slides, ending with a satisfying splash in the pool at the bottom. It's not just a rental; it's an invitation to create unforgettable memories and a whole lot of wet and wild fun.

Our water slides are the epitome of cool - literally! They're the perfect antidote to those sweltering summer days when all you want to do is find a fun way to beat the heat. Picture this: the sun is shining, the BBQ is sizzling, and there's a giant inflatable water slide turning your backyard into a personal water park. Now, that's what we call a summer party!

Our water slide rentals come in a variety of sizes and designs, catering to the thrill-seekers and the gentle sliders alike. From single-lane slides for those who enjoy a solo ride to dual lanes for those who love a little friendly competition, we've got something for everyone. And let's not forget about our slip 'n' slide options for those who want to dive into fun literally!

Bounce House Rental Company is all about bringing people together, and our water slides are no exception. They're the perfect centerpiece for any event, be it a small family gathering, a neighborhood block party, or a large corporate event. With our water slides, you're not just renting a piece of equipment; you're creating a hub of excitement, laughter, and connection.

We're passionate about making your event as stress-free as possible, which is why we offer prompt delivery, setup, and takedown of our water slides. Our friendly and professional team will handle all the heavy lifting, leaving you free to enjoy your event to the fullest. And with our affordable prices, you can create a day filled with fun and excitement without breaking the bank.

At Bounce House Rental Company, we're not just in the business of renting water slides; we're in the business of creating joy, laughter, and unforgettable memories. We're committed to bringing your event to life with our high-quality, safe, and clean water slide rentals. So, why wait? Dive into fun with Bounce House Rental Company and let's make your next event a splash hit!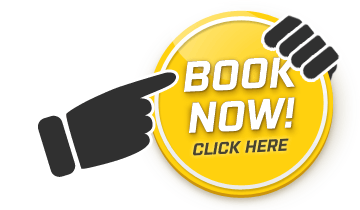 24/7 Online Ordering Process
The reservation process is super simple:
1. Select the date and time of your event.
2. Select your favorite water slide rental you are interested in.
3. Input your information, as well as where the event will be held.
4. Pay a small deposit.
5. Get an instant receipt and confirmation of booking. It's that SIMPLE!
Do You Deliver Water Slide Rentals Near Me?
Looking for affordable party rentals in Atlanta? Well you have come to the right place. Bounce House Rental Company is a guaranteed hit! We have been providing fun party rentals for Atlanta and it's surrounding areas for more than 10 years. We specialize in party rentals for events such as: backyard parties, school festivals, birthday parties, church carnivals, and high school events. Regardless of the reason or locaiton for your party, we bring the fun with Bounce Houses and Moonwalks, Bouncers with Slides, Water Slides, inflatable dry slides, tables and chairs, and Concession Machine Rentals including popcorn, cotton candy and snow cones. If you're looking to have more of an interactive event, check out our obstacle courses and inflatable games. If you are looking to host a party on a tight budget and willing to do some of the legwork we also offer a number of items for customer pickup that will allow you to pick up and save.
Our Service Area
Proud to Serve The Following Areas:
If your party or event is beyond that radius, just let us know! We may be able to make special accommodations to suit your event.
NOTE: Fees may vary depending on how far you are outside our service area.
https://www.google.com/maps/d/embed?mid=1OuJeTClRt17UlbWYitnznU86kKhT648&ehbc=2E312F
Easy 24/7 Online Ordering
Select the Date and Time of your event
Select the items you are interested in
Enter your information
Pay a small deposit or pay in full
It's that simple!
Why Choose Us
Great customer service that works with you
Always receiving new inventory
Fully insured
All of our equipment is high quality, clean, and sanitized
On-time delivery and setup
Customers Who Rent Water Slides Also Shop For: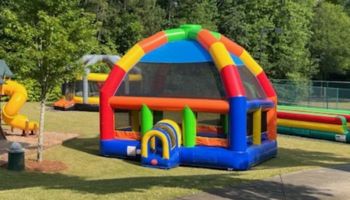 Bounce Houses
Looking for more inflatable fun? Check out our selection of bounce house rentals that will bring endless bouncy fun and laughter to your next event. We have stand-alone bounce houses or combo bounce house with slide units for double the fun!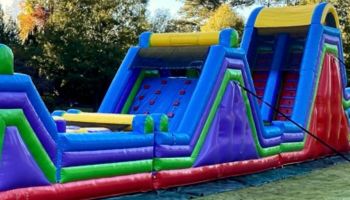 Obstacle Courses
If you want to level up the party fun, check out our inflatable obstacle course rentals! Challenge friends and family for a day of bouncing, sliding, and climbing that will test agility and strength, and see who can get through the quickest.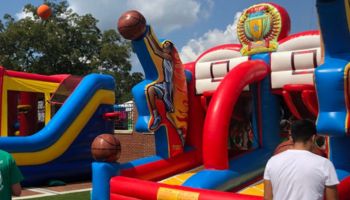 Inflatable Games
Hosting a fun backyard party and having sports players attend? Check out our Inflatable game rentals! Inflatable games include everyone's favorite sports, like baseball, basketball, and we even have those hard-to-find inflatable games like human foosball!
Your Ultimate Destination For Unforgettable Water Slide Fun!
Beat the GA Summer Heat with Exciting Inflatable Water Slide Rentals Looking to beat the Georgia summer heat? Look no further than Bounce House Rental Company's massive inventory of inflatable water slide and wet ride rentals. Discover an array of options that are sure to provide endless fun and excitement. Our licensed inflatable water slide rentals guarantee a fantastic experience for all. Whether you're seeking a thrilling slip-and-slide or a themed water slide, we have you covered. Our dedicated team will assist you in finding the perfect inflatable water slide rental that matches your party theme and event space. Explore the items below and click on the title or image for more information or to make a reservation.

Safety, Cleanliness, and Fun Guaranteed At Bounce House Rental Company, we prioritize safety, cleanliness, and fun in every inflatable water slide we offer. Unlike water slides available at local retailers, our rentals adhere to the highest safety standards. We take great care to ensure that our inflatable water slides are clean and safe for everyone to enjoy. While we encourage our customers to take care of the slides during use, we go the extra mile by thoroughly inspecting and sanitizing them upon their return. With steep and thrilling slides ranging from 13 to 15 feet high, our water slides provide an exhilarating experience you won't forget. Trust Bounce House Rental Company for all your inflatable water slide needs.

Trusted by Families and Companies Across Atlanta We work with families and companies all over the Atlanta area that are looking to add some fun to backyard parties, small events, and much more. Some of our great customers include Relay For Life, United Methodist Church, many schools in Gwinnett County, Forsyth County, Fulton County, and Hall County,Lifetime Fitness, and more. If you're looking for value, fun, a great inflatable water slide, and maybe even some concessions for your party, choose Bounce House Rental Company. You're sure to love it!